Suzuki DR650 Suspension Upgrades
We share your passion; the DR650, is one of our favorite bikes! Simple, light and rugged, the DR650 is popular around the world as a true dual sport mount. Since 2001, there has been at least one in the Cogent garage at all times.
We feel your pain. To keep retail prices down, Suzuki outfits the bike with adequate, but not great suspension. Once the speed is turned up on the street, or that dirt track gets gnarly and narrow; the DR650 can feel larger and tougher to control. Suddenly your smile and confidence are gone; and it's probably not your technique. Maybe your system is worn, or maybe you've found the limits of the stock suspension. Don't panic….
We can help. Cogent Dynamics has options to suit your budget and mechanical ability. If you want to do the wrenching yourself, we can provide you with the parts to transform your DR650 suspension. If you don't have the time or the desire for DIY work; send us your shock and forks. We'll upgrade your bike's front and rear suspension to your specification.
DR650 Suspension Upgrade Menu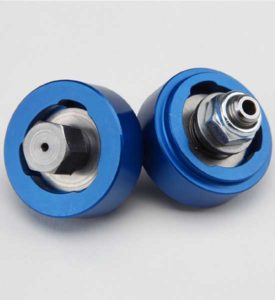 Fork Upgrades
DR650 Fork Service Kit-replace worn components in your existing forks.
DDC – upgrade the damper rods with Drop in Damper Cartridges.
Springs – select the optimum spring rate for your weight and riding style.
Adjustable Fork Caps – easily adjust your spring preload during a ride.
Cogent Service – send us the forks, we'll rebuild them or transform them to your specifications.
Shock Upgrades
New Spring – replace the old with a spring tailored to your weight and riding style.
Rebuild Your Original Shock – send us your shock for service and/or improvements.
Mojave© Shock-drop in replacement –  take your suspension to the next level.
Mojave Pro-Series© Shock – the best shock available for your DR650.
Remote Preload Adjuster – optional upgrade for any Mojave© shock.
Cogent Service – let us transform your existing shock with custom valving,
increase travel or lower the bike…or anything you can think of.
Front Suspension Details
DR650 Fork Service Kit
Cogent has kits containing all the seals, bushings and oil to bring your forks back to like-new spec. If you don't feel up to the task, send us your forks, and we'll send them back, fully revived and custom set up to your weight and riding style.
DDC-Drop in Damper Cartridges
Why you should consider them: The stock Suzuki DR650 forks use (outdated) damper rod technology to dampen wheel movement. Damper rods inside the fork tubes slow this movement by forcing oil through fixed holes. It's stone simple, reliable, and has worked for decades; but the fork's damping cannot be customized to the rider's weight and riding style. Instead Suzuki picked orifice diameters and oil weight that would work for riders of average weight and riding style.
In contrast, the forks of most modern, high-performance bikes use cartridges that slow wheel movement by deflecting shims based on wheel velocity; far more sophisticated than damper rods.
How do DDC's work? Cogent's Drop-in Damper Cartridge (DDC) quickly converts your existing forks to act like a cartridge fork, not simply 'emulate' one. As the fork compresses, oil moves through the DDC, deflecting shims uncovering engineered ports in a controlled manner, providing true velocity sensitive damping.
This is an important distinction, because there are other drop-in fork improvements on the market that slow fork compression by displacing a spring. Only Cogent DDCs are true cartridges; they automatically adjust damping forces based on wheel velocity.  We've learned what works best for the DR650 with our computer controlled Damper Dynamometer backed up by rigorous on-bike testing and data acquisition. So, our DDCs come to you with shims chosen for your weight and riding ability, no further adjustment needed. Cogent DDCs are available separately or in a kit with custom shims, springs and fork oil…or send us your forks and we'll install them.
Springs
Why they're Important: Springs, which are the foundation of motorcycle suspension systems, are very important components.  Remember that the stock forks were designed for low-cost and outfitted to work adequately for the 'average' rider; but every rider is different.
Suzuki's one-size-fits-all formula involves a variable-rate (progressive) spring which isn't really correct for any rider. If you're on the lighter side of average weight, the stock springs may be giving you a harsh ride over bumps, conversely, heavier riders complain that their DR650 feels mushy, and doesn't always go where they point it.  Cogent Precision: We understand how important the correct springs are, so we design and build DR650 fork springs that provide the correct fit in spring rates that have been thoroughly tested to provide the desired level of performance for your weight and riding style.
Cogent DR650 fork springs are available in rates of 0.45, 0.48, 0.50, 0.52, 0.55 0.58, 0.63 and 0.70 Kg/mm.  It's rare that customers know exactly what spring will work for them. Visit our technical article on Spring Rate, or give us a call at 828 628 9025. We also sell a DDC Complete Package: consisting of DDC's, springs, and fork oil. Remember you can always send us your forks and we'll upgrade them for you.
Adjustable Fork Caps
Work Savers: Fork spring preload is an important adjustment and we've found that most riders are able to perceive preload changes as small as 5mm. Using the stock DR650 fork caps means you must partially disassemble your forks, then install or remove spacers to change spring preload. Some of us would rather ride than wrench.
For this reason, Cogent Dynamics manufactures DR650 fork caps with an externally-adjustable hex, which allows you to adjust spring preload even by the side of the road.  If you've modernized your DR with custom springs and DDCs, this modest investment will round out your riding experience nicely. You can tune your forks for how and where you are riding your bike on a given day. A fantastic item if you have a large capacity fuel tank.
Cogent Service
Make your forks great. Send us your forks and let us do the dirty work. First comes disassembly and cleaning of the tubes and sliders. Next, checking your tubes then straightening if necessary, followed by polishing them to lower friction. We'll thoroughly inspect your fork sliders and can anodize them to reduce friction, if you want. Finally, we install new seals, DDCs, springs and oil. The forks will arrive at your door setup to your weight and riding style; just bolt them in and go.
Custom Shop Work
We know who you are. You love your DR and want to build it out for a specific mission. Off-road weapon, Supermoto, or uber-ADV assault vehicle…it doesn't matter. We've done all sorts of modifications from putting high end forks in the DDR650 triple clamps, increasing or decreasing suspension travel, we even helped one customer build a bike with variable adjustable ride heights.
Rear Suspension Details
New Rear springs:
Replace the worn Suzuki one-size-fits-all spring with a replacement tailored to better suit your load requirements and riding style.
Rebuild Your Original Shock
Send us your stock shock and we'll replace the seals, fill with oil and nitrogen to good as new condition. Or, we can take it up a notch by re-valving your shock to improve compression damping. Or, go even further and add externally adjustable rebound damping.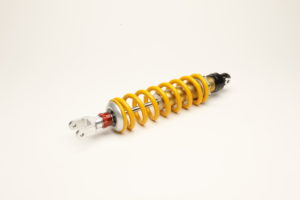 Mojave Shock
The Mojave product is a drop-in replacement for the DR650 stock shock, no modifications necessary. Mojave is not simply an improved Suzuki shock, it is a brand new replacement shock that is a totally engineered suspension solution to suit your needs.
Why Mojave?
Years of test rides as well as testing on our computerized shock dyno, reveals that the Suzuki design has some challenges.
Poor mounts-The top shock mount is just a rubber bushing that is less accurate in translating the shock's damping qualities to the frame.
Incorrect damping-The damping piston, even when perfectly serviced, doesn't provide the damping curve we know the bike needs.  Gas leakage-Suzuki uses a rubber bladder within the reservoir to keep the gas charge separate from the oil. Over time, gas passes through the bladder, eventually gasifying the shock oil. Suzuki uses a raw aluminum body which wears quickly which causes unwanted friction, internal wear and rapid oil deterioration; all those metal fragments polluting the shock oil requires frequent servicing and eventual total loss of the shocks serviceability.
Mojave Improvements
Mojave upper mount: uses a precision spherical bearing with dust seals, which accurately transfers damping forces to the motorcycle frame.
Internal improvements: Cogent designed shaft, seal head, damper piston, adjuster and clevis.
Mono tube construction: precision honed, super-stiff steel body with an upper body cap machined from billet aluminum.
Built-in billet aluminum separator piston provides an in-line gas pressure reservoir which eliminates the Suzuki rubber bladder.
The Cogent Mojave DR650 shock has solved all of the OEM shortcomings, and takes the suspension to the next level. The Mojave is an improvement that you will feel all day, every day you ride. Don't just take our word for it, look up customer feedback on the DR and ADV forums. As with all Cogent products and services, the Mojave is set up for your weight and riding preferences at the factory.
Mojave Pro-Series Shock
The Pro-Series is the suspension performance pinnacle. Cogent takes Mojave's best-in-class performance and adds an external reservoir.
The Pro-Series' sophisticated reservoir with interchangeable valves and shims, provides more tune-ability at all speeds. It also improves internal pressure balance and temperature dissipation, giving long lasting performance regardless of the punishment you put it through.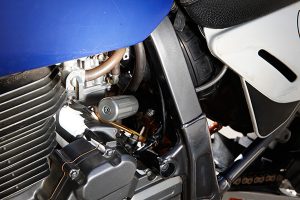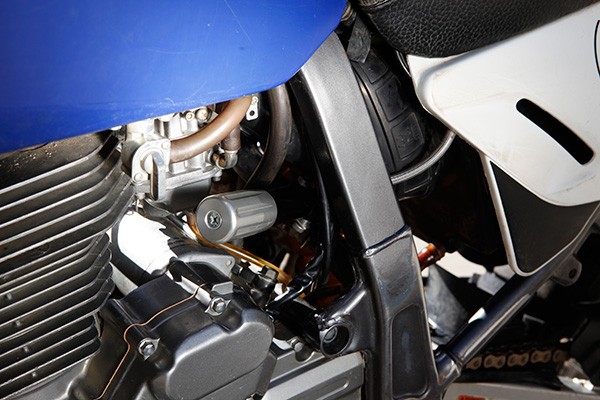 Remote Pre-Load Adjuster
Your Mojave shock allows for the fine-tuning of damping, so why not make adjusting the spring preload just as easy? A great option for your Cogent Mojave shock is the Remote Preload Adjuster. A conveniently located knob uses the power of hydraulics to make quick spring preload adjustments to your shock.
Quick Shipping
Most suspension service is ready to be shipped in 2-3 weeks of receipt by us. Contact us if your needs differ.
Pride in our Service
We treat each customers bikes like they belong to us. Call us today at (828) 628 9025.
Secure Payment System
We use industry-leading encryption and fraud prevention tools.