Cogent Dynamics Bulletin Board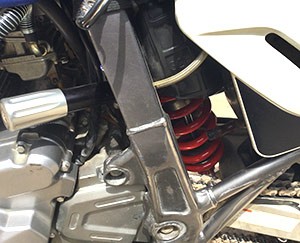 Hi folks, Rick here with an important note about all our shocks.  As a specialty manufacturer of custom shocks made the the highest standard, we use coil springs from a variety of high quality sources and for that reason we have always supplied springs of different colors depending on your riding needs and what is available to us in a particular circumstance.  In the case of out "Mojave" shock for the Suzuki Dr650 we have been limited to a narrow selection of spring rates based on availability of springs which suit the relatively long travel of the Mojave and Mojave Pro Series shocks.  I have personally been developing additional options by engineering slight modifications to our shock and by working with spring manufacturers to allow for a even more suitable, high performance spring to suit your riding needs.  Many of the photographs on this website show yellow or red springs but the photos do not represent the full variety of colors which we have traditionally used.  Some of our springs have been a dark "Cogent" blue, dark gray or a black color.  Please be aware that the wide variety of rates and sizes we offer doesn't allow us to specify a standard color.  We are picking our springs based on the best quality and suitability to your performance needs.
The photo shows my own personal DR650 with the Mojave Pro Series shock with the hydraulic preload option.  The spring on my bike is red and is what best suited my 200lb weight and riding style.  I do my best to get out there to test this equipment to make sure we keep providing you, our customers with the best possible products.
Thank you for all your support, it means so much to me and the rest of the Cogent Dynamics team! 
Thanks to our awesome customers, Cogent Dynamics is open for business!
The Covid 19 Pandemic has resulted in profound changes at Cogent Dynamics.  We have benefitted from and are grateful for the great support and inspiration our customers have provided during this transition. We continue to strive for the highest quality and performance as we navigate the trail ahead.
What life and motorcycles have taught us is to always stay on the pegs,  look ahead, and ride with confidence. Only that allows us to make the correct inputs for continued success.
We are fortunate to experience an unprecedented level of customer interest yet we are constrained in our response by our deep commitment to the health and comfort of our customers and employees.
We are experiencing longer lead times in all aspects of our business due to the volume of work and the physical distancing of our employees, suppliers and customers.  We are actively learning, engineering and implementing improved methods to serve you most effectively.
Thank you, our valued friends and customers. We remain committed to your satisfaction and enjoyment. Let us all look forward to this opportunity to work together as we adapt and overcome during this transition.
Suspension Product Finder: Select Your Bike Make & Model
Motorcycle Suspension
Born of a passion for riding, Cogent Dynamics is the premiere innovator of custom suspension solutions. From designing and manufacturing our own line of suspension components, to performing services such as a shock rebuild or suspension setup and modifications,  we help riders around the world build the best motorcycles for racing, riding and adventuring.
Cogent Dynamics provide both suspension servicing as well as custom manufactured products for your bike that are engineered and built in the USA.
Over many years, riders of all types have relied on Cogent Dynamics for reliable servicing, rebuilding and revalve/tuning of their motorcycle suspensions for almost any bike that exists.  Count on Cogent Dynamics to provide high quality work at great pricing.
Custom designed and built suspension components including rear shocks and fork components are available from Cogent Dynamics.  Check the bike list for a reference of some of the bikes Cogent products are available for.
Cogent Dynamics offer a wide array of product and services for most bikes. Cogent Dynamics are a servicing dealer and repair center for some great partners including  Ohlins and RaceTech.
Contact us, we look forward to serving your motorcycle suspension needs.
Cogent Dynamics Latest News
News and happenings from Cogent Dynamics, the leader in custom motorcycle suspension solutions
Just to get away from all the crazy in the world for a moment...  The rear shock on my DR650 that you built 8 years ago now has 80,000 miles, 25 countries and one RTA on it.  Thanks for a bombproof product!

Nevil

Nevil from Alberta Canada

I received your DR650 front and rear suspension package in August, installed it, added 45 lbs in tools and clothes and was off on an adventure from NY to Maine, 1800 miles round trip.  You Guys hit the nail on the head and I couldn't have been happier with the performance of that suspension!  She didn't miss a beat and went through everything I threw at her.  It was well worth the money!  Thanks and happy trails!

Kent

Kent in New York

I've put about 3000 miles on since I upgraded my KLR front and rear suspension and it was money well spent.  Over the course of the mileage, I've got both ends really dialed in now.  Overall, I couldn't be happier with my new set up.  You lived up to your reputation.  Great Job.

Rodd

Rodd in Massachusetts

I just got back from a 1800 mile ride around NW Wyoming.  It's hard to do justice to how much this suspension change has made to my enjoyment of my CSC RX4.  The new shock has transformed it...  The ride is so much better!  Please thank Rick for putting this shock together for me.

Peter

Peter in Virginia

I was really happy with my old modified DR650 shock and had some regret for purchasing the new Mojave Pro.  That was until I rode it last weekend.  Tell Rick it was awesome!  I giggled the whole time.

Mark

Mark in NC

Your DDC kit and Modoc shock transformed my XT250. Thank you, thank you, thank you. So, to that end… Would you be interested in doing a set up for my 2018 Royal Enfield Interceptor 650 street bike? Please say yes. PLEASE?

Bruce

Bruce

I cannot stress enough how Cogent has utterly transformed my XT250! My tired old "girlfriend" bike is now a competent relaxed ADV bike capable of 100kph all day on gravel roads and navigates single track with surgical precision. One last thing, the less skill you have as a rider the more you need this suspension!

Bruce

Bruce from Canada

"After the stock shock on my BMW G310GS got blown out due to hard offroading, I was in the market for a new rear shock and found this offering from Cogent Dynamics.  Upon deeper review, it became apparent to me that these folks really do take their prep game seriously and strive to provide the end-use customer with a customized product they can depend on.  The depth of the questionnaire surprised me, but also gave me hope that the final product would perform as expected. I must say, so far, this shock has exceeded all of my expectations.  It was simple to install

Chad

Chad Dubuisson

Your suspension makes this possible, thanks for all the support over the years. Here's a pic of me with your Moab shock and fork kit. Cheers, Brian Steeves

Brian

Brian Steeves

You probably get lots of letters like this but I needed to share how impressed I am with the handling of the bike with the new suspension.  I took the bike up and down all kinds of gnarly stuff I wouldn't touch on the KLR before and it handled it all smoothly.  It held traction in the washboard and rocks.  I even kept it upright in 6" of sand.  I had no idea how badly set up the Gen 1 KLR650 was before today.  I had always assumed I was a poor rider but now I see how much difference

Matt

Matt in New Mexico

Gentlemen, Your product delivers what is promised!  I just wanted to say thank you for making my ride so much more enjoyable. I have finally got to try out the new suspension and what a remarkable difference it has made in the way the bike handles and performs in every condition.  My KLR now feels like it can handle what I put it through every time I go out. Thank You for a great product! Robert in BC Canada

Robert

Robert in BC Canada

Gentlemen, Your product delivers what is promised! I just wanted to say thank you for making my ride so much more enjoyable. I have finally got to try out the new suspension and what a remarkable difference it has made in the way the bike handles and performs in every condition. My KLR now feels like it can handle what I put it through every time I go out. Thank You for a great product! Robert in BC Canada

Robert

Robert

Todd just wanted to let you know the suspension performed well beyond my expectations.  Got lost off the WABDR route and into some steep hill climbs with fist sized and larger loose lava rock. Was intimidating but suspension kept me hooked up and was able to get me up and out of that. Total trip was 1565 miles about 700 of it off road. Was packing about 80lbs. Total weight of the bike wet was somewhere around 575lbs.The coil you recommended work perfect for that weight.

 

Thanks Again From A Very Satisfied Customer

Brian

I had been meaning to write sooner and tell you how much I enjoyed riding my KLR after doing the rear shock(Moab) and front spring & cartridge upgrades .  The bike feels COMPLETELY different (and the adjustable pre-load caps are so sweet, its more agile now loaded with all my gear than empty with stock suspension).  No more front end wallowing (at any speed), and now stiffer pre-load on the front gives massive confidence in controlling that bike (and when you ride loaded up with weight one day, then bare the next it's well worth the adjustable caps, as well

Duane

Duane

Just wanted to let you know the install of the Vstrom suspension was a breeze. I've only just now returned from a 65 mile test run up the mountain. Wow! It's like a whole new bike. Excellent combination of handling and ride quality.

Ben

After installing the shock, DDC valves, springs, oil and adjustable preload caps on my 2005 Suzuki DR650, I took it out for a test ride.

Wow, just a totally different bike. The ride is supple over small road irregularities, yet firm. It no longer dives under braking, no longer pogos fore and aft under shifting, it just feels planted, very confidence inspiring.  After the test ride, one more installation took place, Cogent Dynamic stickers on both forks and both sides of the swingarm. I've ordered some H-H brake pads and will install these, after evaluation of the pads I may order

John

Suzuki DR650

I'm extremely impressed with your product. I'm sure you've heard tons from other people going on about how much they like them, so I won't bother blabbering on too much. You folks at Cogent have developed an excellent product that works. And it really works well. Also, the customer service I received was some of the best I had in a long time. Because of this, I look forward to dealing with you again in the future. Thank you so much for helping transform my bike into a machine I truly love riding.

Jeffrey

Just wanted to thank you for you great customer service, advice and the fast shipping! I just finished the installation of the DDCs and new springs and took the bike out for a ride!! I can't describe to you how pleased I'm with the improvement. No more scary dive under hard braking, no more finding a sloped area to park so the bike doesn't fall off the kickstand, yet still a very comfortable and stable bike. Installation couldn't be any easier and instructions where very clear and helpful.

Miguel

" Upgrading to Cogent forks, DDCs and the Moab shock has completely transformed our motorcycle-sidecar. The KLR650's suspension simply isn't meant to withstand the additional weight of a sidecar – especially with a puppy passenger and gear."

Mallory & Baylor the Dog

"Just wanted to let you know that the spring change on my shock made a big difference. The bike feels a lot firmer in the back, and doesn't bottom out in places that it used to. It's also back at the normal ride height. Thanks a lot. It was a pleasure doing business with you, and when it's time for a total shock replacement, you'll be the first one I call."

Ron

" It's been a while but just wanted to let you know that the money spent on the KLR shocks was the best investment in any bike I have owned. The bike was transformed and I still love scooting around on it. "

Roger

KLR650

"I just wanted to say THANK YOU for the INCREDIBLE job you guys did on the suspension of my Triumph Tiger 955i. The DDC forks upgrade and the new Penske shock are just SUBLIME! The bike is absolutely transformed, from feeling like an early '90's bike to a modern, well-developed (albeit still heavy!) trail bike. It feels as good to me as the 2012 BMW R1200GS that I recently rode on dirt tracks. Absolutely stunning transformation! Thanks again!"

Barry

Triumph Tiger

"Need to show Cogent some love. Spent the week dual sporting over some pretty difficult terrain in the Colorado Rockies on a DRZ400 with Cogent Dynamics suspension. The bike worked awesome! Cogent made all the difference when the trails got really rough and rocky."

Aaron

Suzuki DRZ400

"We had some great rides the last 6000km to give the Cogent suspension a work out and make sure they will work on the DR's for the Americas overland trip. And they work like a bomb! Thanks Rick, Todd and everybody else at Cogent."

Michnus

Suzuki DR650

"Wanted to thank the Cogent Dynamic team for the exceptional work they did on my fz-09. Like my buddy says I am not getting a paycheck to ride, so I am not Valentino Rossi. I am a weekend warrior that truly enjoys riding and Cogent Dynamics was able to develop a solution that was affordable for me. I was able to test their work a little but will put it through extensive field testing over the next few months. So far I am very happy with the results. Customer service and quality of the product were top notch. I look

Chris

Yamaha FZ-09

2008 KLR650 Moab. 100,000 plus miles. Still going great. If you want more details; 5 trips to Mexico, Alberta and British Colombia, New Brunswick and Nova Scotia, 43 US States. Thank you. Brian

Brian