Öhlins Suspension Service: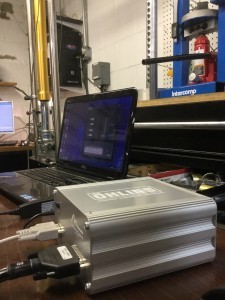 Cogent Dynamics service of motorcycle suspension is top notch and we take great pride in our Öhlins certification as being an official Öhlins Service Center.  We maintain the parts inventory and special tools needed to quickly and precisely rebuild and tune your Öhlins forks and shocks at the highest levels of function and reliability.
Öhlins Shock Service: 
Cogent's precision Öhlins shock servicing includes the replacement of all necessary wear items as needed.  These items may include but are not limited to seal head rebuild or replacement and wear band replacement.  O-rings are renewed for the body cap, cylinder head, reservoir cap, separator piston and other parts of the shock. The Vacuum Filling Machine is used to bleed and refill the shock, which minimizes air or moisture in the damper fluid, providing the longest service life and best performance. Our Roehrig Dynamometer  helps to ensure proper function of your Öhlins shock and also precisely tests damping or valving modification and shock calibration changes.
Öhlins Fork Service: 
Cogent's precision servicing of Öhlins forks includes disassembly and cleaning, checking components for straightness and wear along with replacing wear items as needed.  These wear items may include but are not limited to:  oil seals, dust seals, inner stanchion bushings, fork oil, check valves and shims and piston wear bands.  Cogent Dynamics use theRoehrig Damper Dynamometer to test function and damping adjustments when necessary.
Öhlins Steering Damper Service: 
Cogent's precision servicing of Öhlins Steering Dampers for linear or rotary MX type dampers includes disassembly and inspection and replacement of necessary wear parts as needed.  The wear parts may include but are not limited to: oil seals, O-rings, bushings, reservoir seals, pressure components (reservoir foam) and wear element/piston-ring. Testing for component straightness is carried out as a comprehensive assessment of crash damage.
Öhlins "EC" Electronically Controlled Suspension Service:
Mechanical and Electronics Engineering (Mechatronics) provides your motorcycle with the ability to control suspension adjustment via an ECU (electronic control unit).  When servicing the TTX EC components, it is vitally important that the adjuster elements be tested for function and accuracy.  Cogent Dynamics use the Öhlins Mechatronics diagnostic equipment to allow us to perform these tests and also make test runs on the Damper Dynamometer while doing active range adjuster testing.
Cogent Dynamics use the best available technology to ensure you of optimum performance and precision.  We use vacuum filling equipment, computerized dynamometer testing and the Öhlins Mechatronic test apparatus in the completion of servicing and valving calibration.  Whether you ride with the S46, TTX36, TTX25, TTX Flow, FGR, RFX, R&T or other Öhlins products, let the experts at Cogent Dynamics help with your service and setup needs.