Kawasaki KLX 250S suspension upgrades
The KLX 250s is a great dual sport bike for those seeking a reliable and well-mannered lightweight bike from this class. We are passionate about this great bike! Our personal bike is a 2007 (this bike received a series of changes starting with the 2009 model year.) which has had the awesome Cogent suspension upgrade along with a displacement increase to 300cc we don't tell people about. With these mods, we have a 300 lb bike ready to ride that competes with anything in its class.
We appreciate your needs
The simplicity of the KLX 250s helps make it an easy to maintain and bulletproof machine but to keep costs in the target range, Kawasaki engineered some shortcuts into the bikes suspension. Since these bikes get ridden so much often even a good servicing of the stock suspension components is helpful. Whether you want to send us your components for rebuild or a full upgrade, we can help.
We can help.
Cogent Dynamics has options to suit your budget and mechanical ability. If you want to do the wrenching yourself, we can provide you with the parts to transform your KLX250s suspension. If you don't have the time or the desire for DIY work; send us your forks and we'll upgrade your bike's front and rear suspension to your specification, just give us a call.
KLX 250s Suspension Upgrade Menu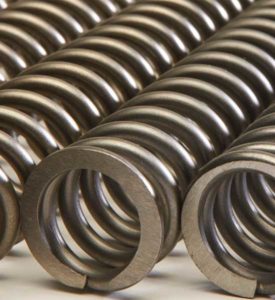 Fork Upgrades
KLX 250 Fork Service Kit – replace worn components in your existing forks.
Springs – select the optimum spring rate for your weight and riding style.
Cogent Service – send us the forks, we'll rebuild them or transform them to your specifications.
Shock Upgrades
Cogent KLX Pro-Series© – An awesome replacement shock with Cogent's sophisticated, piggyback reservoir that incorporates interchangeable valves with engineered port design and shims for adjustable compression control at all speeds.
Remote Preload Adjuster – optional upgrade for any Mojave© shock.
Cogent Service – let us transform your existing shock with custom valving,
increase travel or lower the bike…or anything you can think of.
Quick Shipping
Most suspension service is ready to be shipped in 2-3 weeks of receipt by us. Contact us if your needs differ.
Pride in our Service
We treat each customers bikes like they belong to us. Call us today at (828) 628 9025.
Secure Payment System
We use industry-leading encryption and fraud prevention tools.