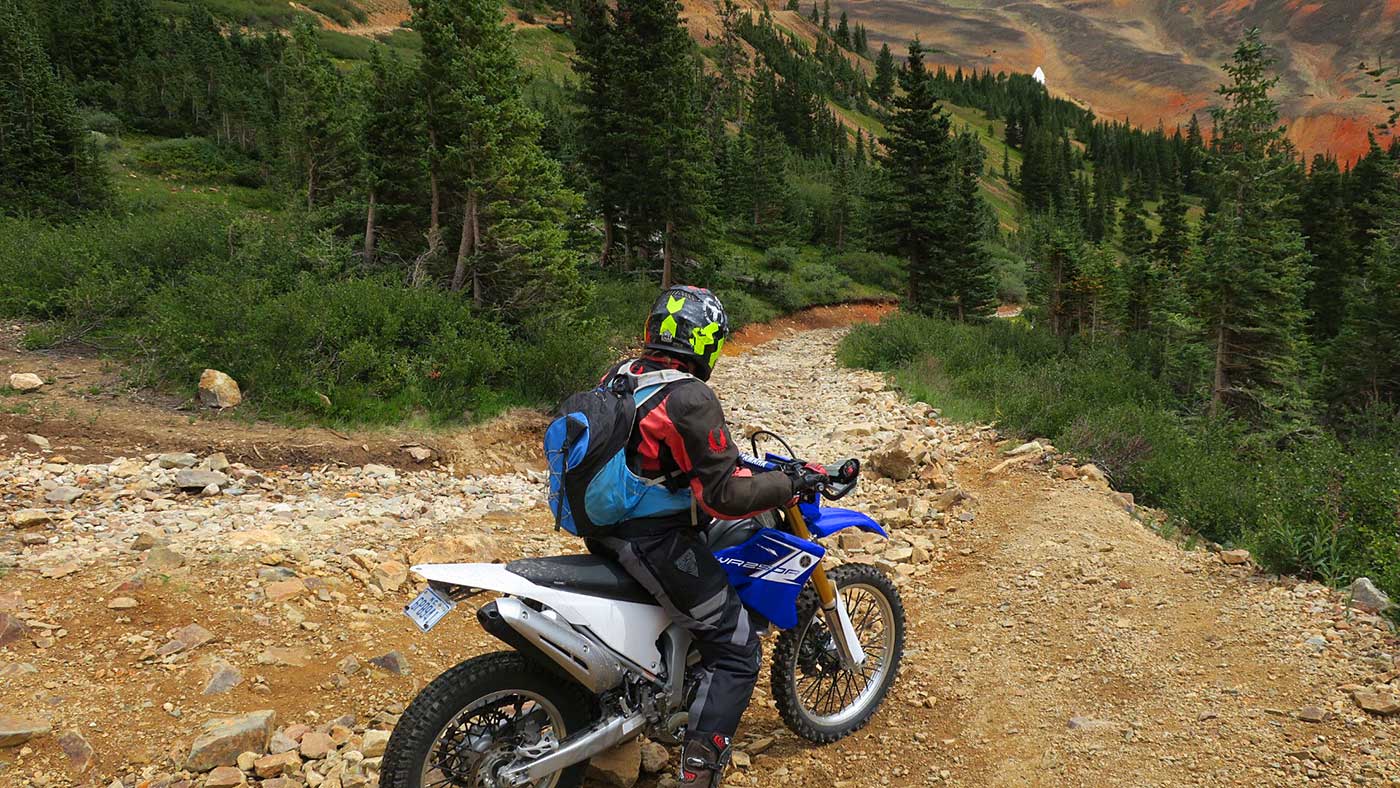 Yamaha WR250R
The Yamaha WR250R is a fantastic multiuse 250cc motorcycle which was designed from the ground up as a Dual-Sport bike. The WR250r uses an oversquare design (77mm bore x 53.6mm stroke) with an excellent head design and fuel injection to provide high efficiency and an easy revving nature making the bike more capable on the open road than we would have expected. The engines smooth power combines with the 6 speed transmission and good chassis design to provide a relatively light weight (about 300 lb. ready to ride) Dual-Sport bike that can reliably cover long distances with low maintenance requirements and still have good trail-bike characteristics.
WR250R has been a bike Cogent Dynamics have worked with since the first year of production. The 10.6 inches of advertised travel front and rear is controlled by fully adjustable damping with compression and rebound adjusters on the forks and shock. The forks utilize 20mm open chamber cartridges with standard type shims over ports and spring controlled check valves. The 46mm inner diameter rear shock with a 14mm shaft has a piggyback type reservoir with a simple (basic) design head-valve compression adjuster.
For many, the stock suspension works well. Luggage loads or larger and more aggressive riders often benefit from an increase in spring rates. Cogent Dynamics offer front and rear springs which are custom designed to fit both the shock and forks without adapters or modifications.
We have found that the rear shock fluid is often gasified from poor bleeding and/or porosity in the rubber separator bladder. A simple shock service is often a big performance upgrade even on a near new bike. The shock also can benefit greatly from simple valving changes. Upgrades to the separator bladder and seal head module and inexpensive additions to service work on these shocks. Cogent Dynamics provides these upgrade services with the security of our excellent workmanship and expert tuning, confirmed and tested by Cogent's in-house damper dynamometer.
The WR250R forks work well for a wide range of use but more selective riders will appreciate the Cogent Dynamics revalve which includes and engineered mid-valve stack.
Cogent products and services for the Yamaha WR250R include:
Let us tune your WR suspension to be ideal for the way you use your bike!
Quick Shipping
Most suspension service is ready to be shipped in 2-3 weeks of receipt by us. Contact us if your needs differ.
Pride in our Service
We treat each customers bikes like they belong to us. Call us today at (828) 628 9025.
Secure Payment System
We use industry-leading encryption and fraud prevention tools.