Honda CRF1000 "Africa Twin" Suspension
Cogent Dynamics is developing additional solutions for the new Honda Africa twin suspension, both for shock and forks.  We offer replacement springs, revalving and other upgrades for the Forks and the rear Shock.
The Basic Africa Twin Suspension details include the following:
The Africa Twin ready to ride weight (3/4 tank) is approximately 540 lbs. Without luggage or accessories.
The front forks are Showa 45mm USD type with a reported 8" of travel.  The forks are cartridge type with adjustable compression and rebound damping. And have screw adjustable spring preload.
Fork triple clamps provide a strong, twist resistant, double pinch mounting on both top and bottom clamps with a bearing area of 56 and 60 mm respectively.  Nice and stout!
The Rear Shock is a piggyback design remote reservoir type utilizes a composite steel (46mm I.D.) body tube and a cast aluminum, anodized cylinder head and reservoir assembly.  This shock uses a 14mm diameter hard chrome shock shaft and has approximately 103 mm ultimate travel.  The bottom bumper is large and helps compensate for a somewhat soft spring weight (judged by Cogent to be best suited for a 170 lb. rider with no luggage or passenger) of 495 Lbs. / Inch and installed with a minimum preload of 10mm.  The integral, hydraulic preload adjuster allows the user to dial in an additional 8-9 mm of preload via about 18 turns of the plastic preload knob.
Overall length of the shock measures 394mm eye to eye and uses a rubber lined top mount eyelet bushing and a lower clevis mounting.
Rear suspension travel is reported to be 8.7" of travel (ultimate) and we feel the actual usable travel will be closer to 8". We applaud Honda for breaking the trend of compromising shock design for the purpose of packaging by not making the relatively long travel rear suspension actuate a short stroke, stiffly sprung shock that makes control and strength a less important consideration.  Rides will overload and ride these bikes under arduous conditions.
The rear shock is equipped with damping adjustment for both Rebound and Compression.  The rebound adjustment range is just less than 20% via the screwdriver adjustment.  Internal adjuster circuit is an open type that also gives near 10% compression variation over the same range. Rebound forces are calibrated at 324 Lbs rebound force (absolute) measured at 10" per second velocity.
The rear shock compression adjuster (part of the cylinder head/reservoir assembly) is of the high speed adjustment type and provides approximately 25% of independent adjustability through its range when measured at 10"/sec. absolute force vs. velocity.  The adjuster design seems excellent as damper hysteresis remains quite consistent throughout the range.   We feel this adjuster provides excellent adjustability which actually could be more than ideal when considering the shocks internal pressure balance.  The compression force is calibrated to approximately 174 Lbs. / inch at 10"/sec.
Looking at the damping calibration, Cogent Dynamics see a potential for valving changes that would be beneficial for many riders, particularly those who plan to do much riding off pavement. In general, we feel Honda has done a great job giving riders a good quality suspension with features that really matter and a calibration that many riders will find quite good as delivered.
The Cogent revalve solution utilizes an upgraded damper piston and shim arrangement. Custom replacement shocks are also available.
Front forks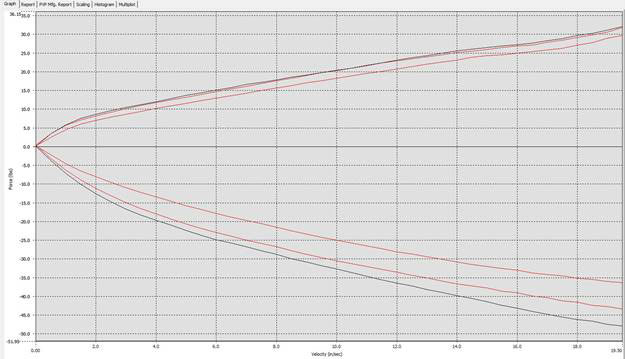 The Africa Twin front forks are a standard 20mm cartridge design in the excellent Showa tradition. The cartridge uses a position dependent, auxiliary damping component. The fork travel is approximately 9.5" maximum. The spring used is a progressively wound which initially rates at about 6.0 Kg/mm.
We provide a wide range of options for the Africa twin forks:
Fork springs – We offer a great straight rate fork spring that is specific to the Africa twin. Other custom rates are available.
Fork revalve – Have us revalve your forks with our custom valving packages which replace the base valves in your existing Honda / Showa 20 mm cartridges for improved traction and performance. We customize your forks damping to suit your specific needs.
25mm cartridges – For the ultimate performance, have us install a complete cartridge conversion to our proprietary 25mm fork conversion.
Fork parts kits – For the Do It Yourself folks out there, check our great offerings of rebuild and upgrade parts kits. The Cogent Dynamics valving kit includes preassembled Base Valve units with shims and check valve already installed.
For updating your Africa Twin Front suspension we offer the following options:
Featured Honda CRF1000 "Africa Twin" Suspension Products
Quick Shipping
Most suspension service is ready to be shipped in 2-3 weeks of receipt by us. Contact us if your needs differ.
Pride in our Service
We treat each customers bikes like they belong to us. Call us today at (828) 628 9025.
Secure Payment System
We use industry-leading encryption and fraud prevention tools.