Spring rates and conversions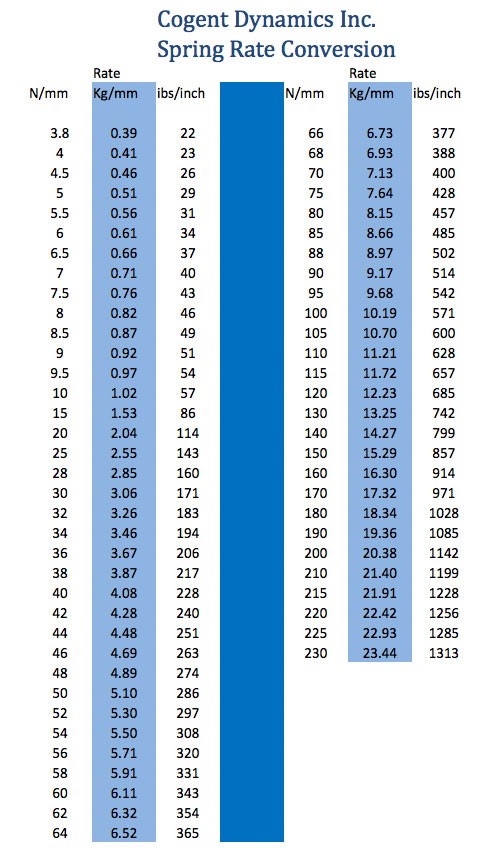 Motorcycle suspension begins with springs. Fork springs, shock springs "rated" for what and how you ride. There are many options available and at Cogent Dynamics springs are not just a product offered but one carefully considered in a way that helps you to make the best selection easy.
Often times you will see different rating systems used to express the the forces produced by a given spring. In the case of both fork springs and rear shock springs or any compression spring, the "rate" is expressed as the force it takes to compress a spring by a specified amount. Now days, it is very uncommon for fork springs to be rated in anything but metric terms, most commonly Kg/mm or the number of Kilograms per millimeter of deflection (or travel) or N/mm or Newtons per millimeters deflection. Shock springs, on the other hand are frequently referred to by lbs/inc. or pounds of force per inch of travel.
When springs are "rated" or tested here at Cogent Dynamics, springs are put into a machine known as a "Spring Rater" where a strong system is used to deflect (compress) the spring under test, over very carefully measured and known distance so the forces created are measured precisely by an accurate load cell. Testing is done in a range of the spring that is a percentage of the total travel and measurements are made in a consistent and repeatable way.
Rating your springs tests them for the "rate" they are and is a great test to be sure they are what you think. Testing also helps to establish a baseline value from which to make changes and adjustments. Most springs do not loose or change rate with use as much as they can change their "free" length.
Besides rate, other important considerations exist. The most obvious are the physical dimensions which determine the suitability for the spring to fit into your suspension component, either rear shocks or front fork. Perhaps less obviously is the total amount of travel the spring is capable of before becoming coil bound at its "solid height". Your motorcycle needs a spring that fits your application, has the correct rate for your use and has sufficient travel to operate through the full stroke or travel of your suspension. When calculating fork or shock springs necessary travel, any spring preload must also be considered.
These are just some of what Cogent Dynamics take into account when customizing and tuning a suspension setup to best meet your individual needs.