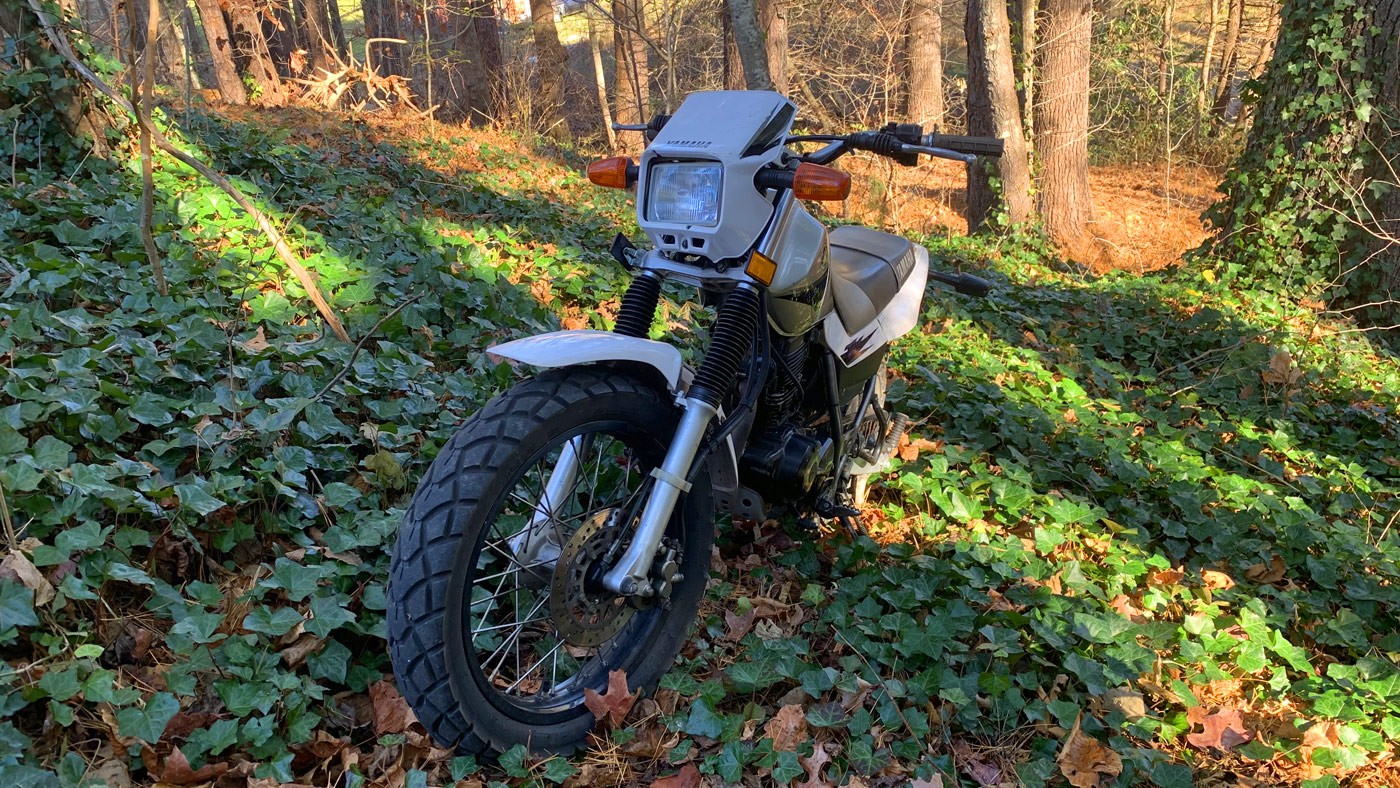 Yamaha TW200 1987 – present day
Today's Yamaha TW200 is a proven concept machine which has roots into the 1970s for a high flotation-tired motorcycle.  This fine motorcycle is unique in its simplicity and utility and while it is built to a price point the "T-Dub" provides accessibility and enjoyment for a wide range of people.  New riders find the lower seat-height and mild but torque rich engine as a perfect and unintimidating machine. Farmers, fishermen, work crews and even search and rescue groups find the mountain goat like capabilities useful. Highly skilled and seasoned riders are also enthusiastic about the Compact TW200's ability to allow for all day enjoyment on back roads and trails everywhere.  We feel the Yamaha TW200's unintimidating looks, and quiet nature is naturally less controversial amongst non-riders to the point that we just have a much easier time in campgrounds and when riding near hikers and horses.  The TW200's low pressure large "flotation" prove the T-Dub may be one of the ultimate "tread lightly" machines leaving almost no trace of having been down a trail.
Cogent Dynamics recognizes the wide range of use of the TW200 gets and we understand why people affectionately refer to is as a "Goat".  We love our Yamaha TW200 and developed products to make it even more capable.  While stock, the T-Dub is fine for many people and uses.  For the experienced motorcyclist or for those asking the bike to do more than it was intended, upgrading the stock suspension can be a great addition your enjoyment of your TW!.  Cogent Dynamics have worked closely with other industry experts including ProCycle to develop a high-quality suspension solution to transform the TW200 into the bike that many of us desire.  As all Cogent Dynamics products, the Yamaha TW200 suspension products which currently include the famous DDC (Drop in Damper Cartridges) and carefully engineered custom fork springs upgrade your forks to a much higher level of performance.  Together with our EBL© "Easy Bonus Loop" replacement rear shock which are also custom hand built to your needs right here USA and made of USA designed and manufactured components with a lifetime performance warranty (subject to specific limitations) which is second to none.
Feel what testing, development and quality can do for you by upgrading your bike with Cogent Dynamics suspension products! 
Cogent products and services for the Yamaha TW200R include:
Quick Shipping
Most suspension service is ready to be shipped in 2-3 weeks of receipt by us. Contact us if your needs differ.
Pride in our Service
We treat each customers bikes like they belong to us. Call us today at (828) 628 9025.
Secure Payment System
We use industry-leading encryption and fraud prevention tools.