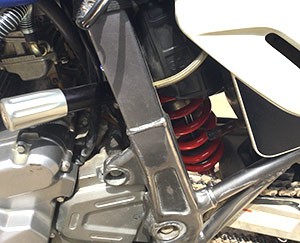 Hi folks, Rick here with an important note about all our shocks.  As a specialty manufacturer of custom shocks made the the highest standard, we use coil springs from a variety of high quality sources and for that reason we have always supplied springs of different colors depending on your riding needs and what is available to us in a particular circumstance.  In the case of out "Mojave" shock for the Suzuki Dr650 we have been limited to a narrow selection of spring rates based on availability of springs which suit the relatively long travel of the Mojave and Mojave Pro Series shocks.  I have personally been developing additional options by engineering slight modifications to our shock and by working with spring manufacturers to allow for a even more suitable, high performance spring to suit your riding needs.  Many of the photographs on this website show yellow or red springs but the photos do not represent the full variety of colors which we have traditionally used.  Some of our springs have been a dark "Cogent" blue, dark gray or a black color.  Please be aware that the wide variety of rates and sizes we offer doesn't allow us to specify a standard color.  We are picking our springs based on the best quality and suitability to your performance needs.
The photo shows my own personal DR650 with the Mojave Pro Series shock with the hydraulic preload option.  The spring on my bike is red and is what best suited my 200lb weight and riding style.  I do my best to get out there to test this equipment to make sure we keep providing you, our customers with the best possible products.
Thank you for all your support, it means so much to me and the rest of the Cogent Dynamics team!