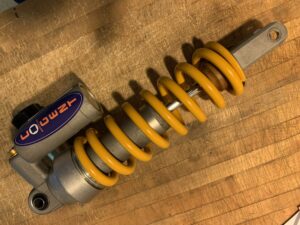 They are here!  After much fanfare, anticipation and excitement the New (2021) Yamaha T700 698cc parallel twin Tenere 700 has hit the shores of North America and at $9,999 they are less than ten grand, right?  While the engine shares much DNA with the existing FZ700 the similarity seems to end there.  The Tenere 700 is poised to be an epic bike in its class which seems to be "THE class" these days.
At Cogent we have been getting many requests to work on the suspension of the new Yamaha but have only recently been able to get products into active use. When the very first set of suspension components came to us, we invested the time and efforts to take a close look at the choices Yamaha made for the market segment.  We feel like Yamaha made a significant effort to equip the new Tenere with an optimum cost vs. performance ratio with respect to the suspension setup.  We like that straightforward components were chosen, seemingly emphasizing real world performance over wiz-bang features.
The rear shock has quite a lot of travel at around 100mm which through the swing arm and linkage leverage ratio translates to about 200mm (7.9" claimed) We think this choice points to function and durability over purely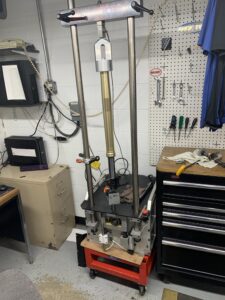 "packaging" considerations by Yamaha. A cast aluminum body shock with both rebound and compression damping adjustment is quite conventional but our testing shows a very minimal range selection in the compression damping adjuster. A piggyback reservoir and included hydraulic preload adjuster with great range (more than 10mm of additional preload available) will contribute much to the functionality for weekend warriors as well as overland travelers.
The front forks which their 43mm o.d. fork tubes tubes use conventional open  cartridge goodness inside that includes compression and rebound damping in EACH leg and adjustments for both. The forks use a high performance straight rate springs of 0.6 kg/mm which seems spot-on for the average all around rider of 180 lbs. spring rates and damping favor lower frequency with smooth damping for comfortable on-road use but keep those of us in mind who may want to explore the unpaved parts of our environment.
Riders who will be loading this bike up or asking for more spirited off-road performance will want their Tenere 700 to be sprung differently and likely revalved for better performance under those conditions.  We really feel like this new 700cc class adventure bike is going to represent a real sweet spot in the marketplace.
At present Cogent Dynamics offer spring updates and damping upgrades for both the rear shock and the front forks.  Please contact us with any questions.  We will be updating our website to include these products and services soon.
Happy adventuring!