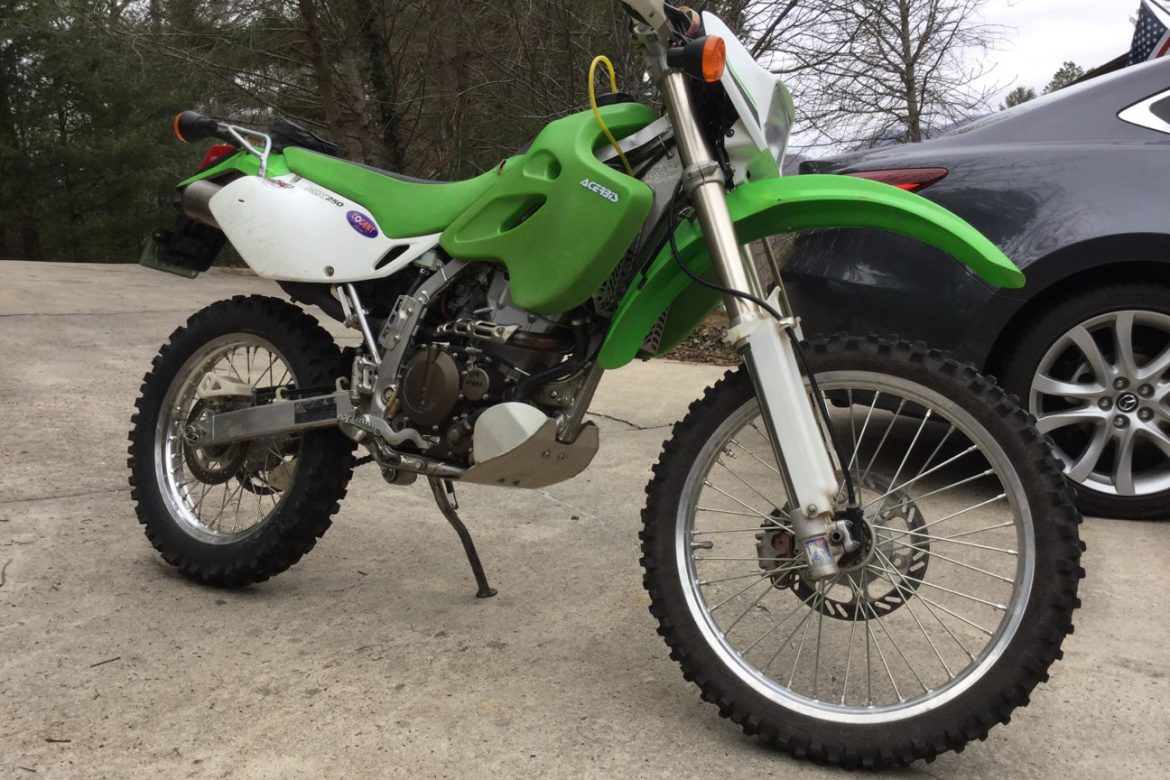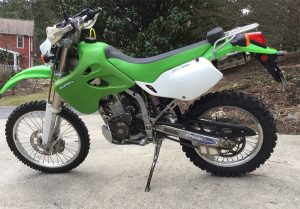 * SOLD *
We are selling our 2007 KLX250s which has been a fun and dependable all-purpose Dual-Sport bike for us for a number of years.  Many of our friends have shared rides with Joyce or I riding this bike.
If you are looking for a great Dual-Sport bike which has been well setup and well maintained, this could be the bike for you!
The Kawasaki KLX250S a versatile, sub-300lb. Dual-Sport bike for years. The 2007 model year was the last of the more dirt oriented KLX250S as none were imported to the USA in 2008 and the 2009 and up bikes gained weight and lost suspension travel (in favor of a more road-going setup and lower seat height).
At this time (February 13, 2018) our KLX has accumulated only 7,884 miles and has been regularly maintained and ridden. This summer this KLX was gone through to make it ready for our trip to Ouray, Colorado but an other bike took its place on the trip.
The following is a list of some nice additions and facts about this bike:
Unibiker Radiator Guards
Utah aluminum Skid Plate
Kawasaki OEM parts 300cc top end (installed at 3,240mi)
OEM, larger KDX200 airbox rubber snorkel
OEM KLX 300 exhaust system (no maintenance lighter and low restriction exhaust) not loud
Aluminum billet exhaust tip
Lithium light weight and reliable battery
New chain and sprockets (13-47 installed) comes with new 14 tooth counter shaft sprocket also
Motion Pro Lite-Loc rim locks
Excellent condition Pirelli XCMH tires (95% off-road type)
AFAM aluminum Flex-Bars
Acerbis brush guards
Battery Tender connector
Acerbis extra capacity fuel tank for long range
Fresh brake pads and fluid
Twin Air washable air filter, (new)
Rear shock revalved and serviced
Front forks revalved with adjustable rebound added. Slightly firmer fork springs installed
Fresh fork service which included new fork seals.
This is an opportunity for you to own a great bike. Contact Cogent Dynamics at [email protected]