KTM 350 EXC-F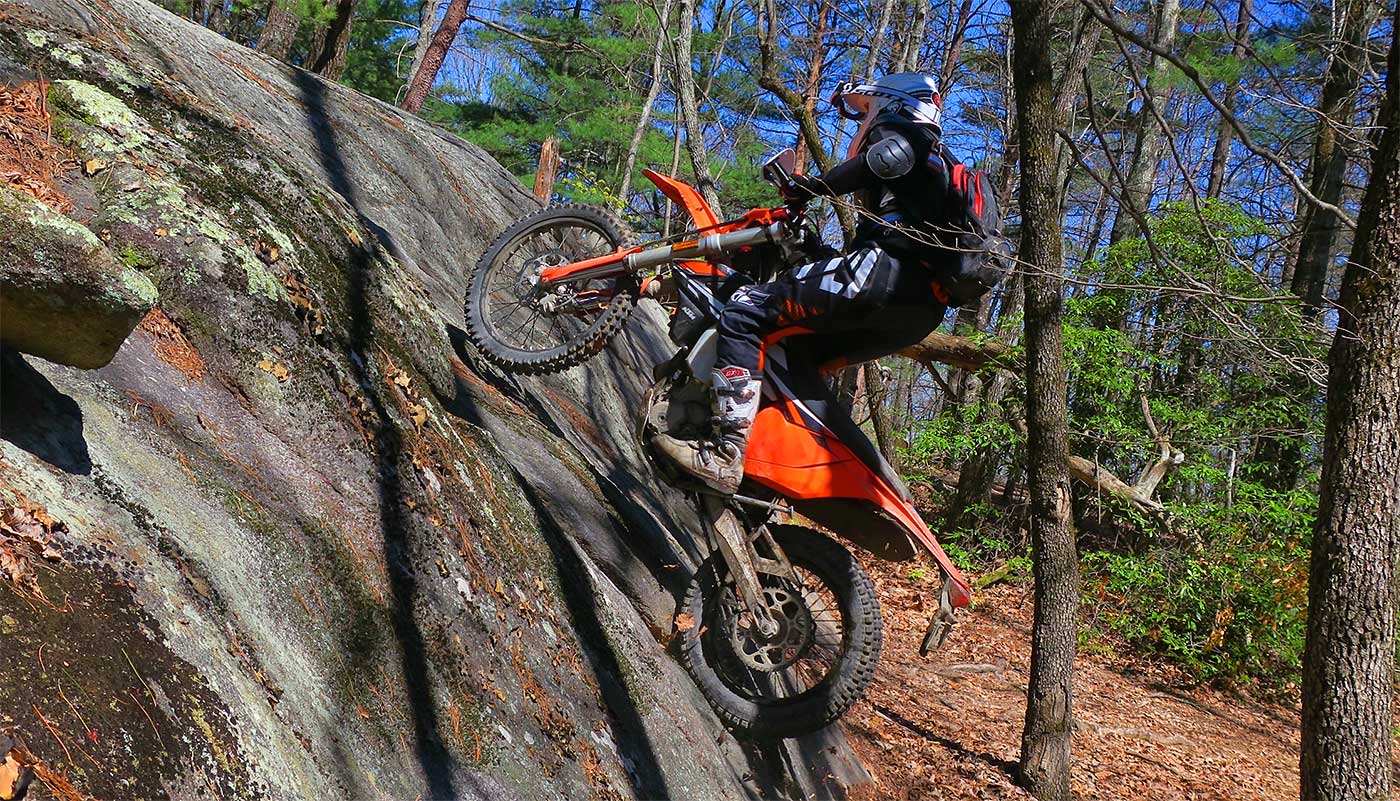 The new for 2017 KTM EXC-F motorcycles which include the KTM 250 EXC-F, 350 EXC-F, 450 EXC- Six-Days and 500 EXC-F provide different displacement versions of 50 state street legal versions of KTM Enduro race bike.  Light weight, quiet and clean, these new EXC-F bikes are a real jump forward for the serious dual-sport rider who wants to spend a lot of time doing real dirt riding.  Truly, these are bikes you can race on Sunday and ride to work on Monday. The KTM EXC-F was engineered with the serious off-road enthusiast in mind.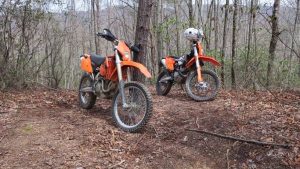 The new EXC engine are based on the revamped SX engine and is designed to optimize durability weight and mass centralization. A new lighter frame is made from quality Chrome Moly type alloy with improved flex characteristics which helps make the chassis a great handling and lightweight machine.
The new EXC's come with a simpler, lighter weight and lower friction Xplor suspension and use the PDS philosophy for a link-less rear suspension.  The Xplor forks are open chamber type with ease of access to the single adjuster per leg which controls compression and rebound damping.  While perhaps not the very best setup for the Motocross track, for dual-sport, trail riders and many weekend Enduro riders, we think the Xplor suspension is the way to go.  The rear suspension design having no link helps the EXC-F have outstanding ground clearance with little to hang up on obstacles and reduces the number of components to maintain over time.  Same thing with the Xplor forks, the compliant and lightweight design is durable and simple to maintain. Many of the newer off road racing bikes use various systems to pressurize the fork's internal damper cartridge which is a great way to keep the fork oil from aerating when racing over big whoops but bring with them a penalty of a lot more parts including coaxial pressure pistons and internal seals which are prone to leakage.  Open chamber forks have a bigger oil reservoir helping to stretch out service intervals.  To us, less maintenance means more riding and that is a trade we will make with pleasure.
Shim type valve lash adjusters and diamond-like carbon coated rockers make for a stable and long lasting valve train. The improved diaphragm spring clutch is a pleasure to use.
KTM 350 EXC-F on the trail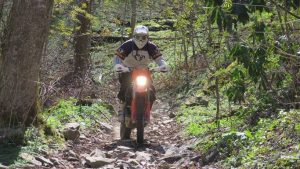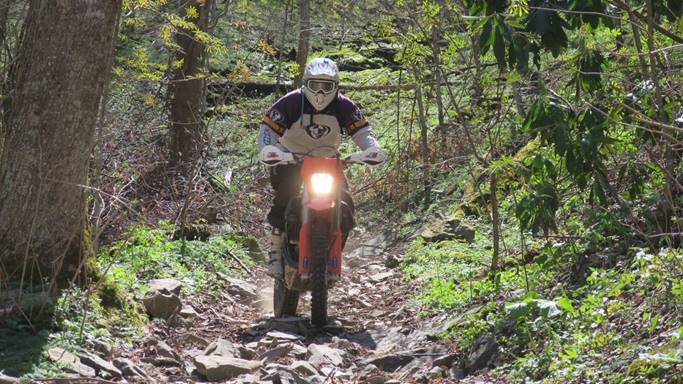 How does this all work? Cogent's own 350 EXC-F has proven to be a great performer with no tendency to flame out or to run overly hot.  We are super happy with the way the bike runs and delivers its power to the trail.  For sure there is more power to be had from changing mapping and opening the flow path for better breathing but we enjoy the quiet power with its smooth delivery.  With racing not being the focus for our shop bike, if more power were needed, money would have been better spent on the 500 EXC-F, at least in our opinion.  The stealthy and smooth delivery makes the bike sneaky fast while building rider confidence.  Having a clean and quiet bike helps keep riding areas open for all of us.  We enjoy the 250 like handling with big bike power, a very easy bike to ride well off road.
The stock suspension did take a few rides to break in and any real criticism would be that the bike is a little soft for a 200 lb rider riding off road.  Simple spring changes front and rear reaps a big reward.  The left fork legs compression adjuster is a very unique bypass bleed design which has very little effect on the low-speed range of the compression damping.  Both the right and left fork legs provide compression damping with the adjustability being split between sides. Many revalve opportunities are present but for many, these will be a sweet setup as delivered and correctly sprung.  These are easy suspension systems to tweak to a riders individual needs.
Thank you KTM, this range of EXC-F motorcycles are real winners!